Join us for a PRIVATE Liveaboard experience aboard the Belize Aggressor IV Dive Yacht. 
Friends, this is Dive Luxury like you've never experienced.  Think Concierge Diving…you get out of the water and the boat staff hands you a towel to dry off. 
Nitrox pumped on board for your total diving convenience. Luxury dive vacation to the max.
Just YOU and 18 of your favorite Scuba Adventures Dive Squad members! 
We will have Scuba Adventures Instructors and Divemasters on board therefore you may get specialty certifications like Deep Diver, Night Diver and more. Get a specialty or simply enjoying diving with your best pals and staff. 
Click below to see when we're running our next trip!
Belize Aggressor IV Boat Features
Air-conditioned salon and dining area
Sundeck complete with a lounge and deck chairs
Stereo and CD player
Shaded wet bar and grill
Complete photo center with a digital video and still photo editing computer
Belize Aggressor IV Dive Facilities
Nitrox (unlimited Nitrox is $100 per week or $150 for 10 nights)
Individual dive lockers
Camera table with low-pressure air hoses
2 Hot, fresh water showers
Up to 5 dives per day (2 on the last day)
Full line of Aqua Lung rental gear
Diving specialty courses
Food & Drinks Aboard Belize Aggressor IV 
The menu onboard is varied and plentiful, with a variety of American feasts, barbecues and local cuisine. The Aggressor's selection includes fruit juices, soft drinks, iced water, iced tea, coffee, and a limited selection of local beer and wine, which are complimentary. Due to the high duty charged on liquor, we suggest you bring your special brand from the U.S.
About Belize
Most divers dream of scuba diving the Great Barrier Reef. For many, it is too far and unattainable. Did you know that the 2nd biggest reef system, to the Great Barrier Reef, is only a 3-hour flight from Dallas? It's time to add Belize scuba diving to your bucket list.
Belize is a beautiful Central American country on the east coast. The country has rich geographical diversity where you can find swamps, hills, jungles, and more! Located off the Caribbean Sea and south of the Yucatán Peninsula, Belize has incredible snorkeling and scuba diving opportunities you don't want to miss out on.
Its vast coastline stretches 174 miles! Belize is bordered by Mexico, Guatemala, and shares maritime borders with Honduras. Stretching almost 23,000 square miles, Belize is just slightly smaller than the size of Massachusetts. 
This little corner of Central America has rich history, breathtaking views, and crystal clear waters waiting to be explored on your next scuba diving adventure!
Scuba Diving Belize
Belize is home to some of the best scuba diving in the world! The Belize Barrier Reef stretches longer than the country at 190 miles long! It was named a UNESCO World Heritage Site in 1996.
In addition to the world famous Blue Hole, there are three stunning atolls (ring-shaped coral reefs or islands) in Belize that are a must-see for all divers!
Lighthouse Reef
Lighthouse Reef is the easternmost atoll, stretching 30 miles long and 8 miles wide. It is the only atoll with an airstrip. 
It's also home to the Great Blue Hole, one of the largest sinkholes ever discovered measuring 1,043 ft wide and 407 ft deep. It lies near the center of the atoll, forming an almost perfect circle. Scuba diving the Belize Blue Hole isn't known for diverse marine life. Instead, you will enjoy massive stalactite formations. Once you're off the boat, you'll head straight down to 130 ft deep, only cruising there for a few moments until you begin your slow and steady surface. Due to the depth of this dive, check with your dive leaders to see if you need to be at least an advanced adventure scuba diver.
Lighthouse Reef is also home to Half Moon Caye Natural Monument, Belize's first national park. This park is also a great destination for bird-watchers, housing 99 species. 
Turneffe Reef
Turneffe Reef is the closest atoll to the mainland, only 24 miles from Belize City. It is the largest atoll in Belize with numerous islands, resorts, and lighthouses. Because of the large volume of mangrove trees and its overall green ecosystem, you can find a diverse variety of wildlife such as crocodiles, snakes, and even manatees, just to name a few! There are over 70 known dive sites at the atoll, making it a perfect spot for divers of all levels.
Glovers Reef
Glovers Reef is the southernmost and least visited reef, given it takes a two-hour boat ride to get there. This is a great spot for divers looking for a "hidden gem"! It is the least inhabited of the three Belize atolls. The atoll is a protected nature preserve, making commercial fishing illegal. This allows wildlife to flourish and makes for a great diving experience. There are no permanent residents of Glover's Reef, but there is a Wildlife Conservation Society research station run by marine scientists.
Belize Scuba Diving Conditions
Belize scuba diving is great for all levels of divers with dive sites catering for Open water divers, advanced divers through to tech divers. The water is clear with visibility reaching up to 120ft. The best visibility being during the dry season December – May.
Water temperature ranges from 75 degrees – 84 degrees, making it a comfortable temperature all year round for diving. Many would be brave enough to just grab a swimsuit and go!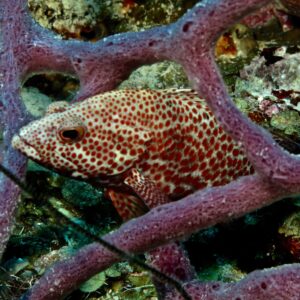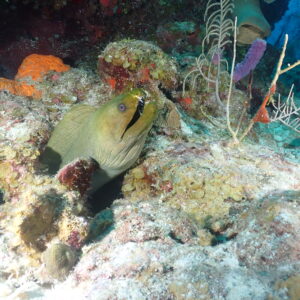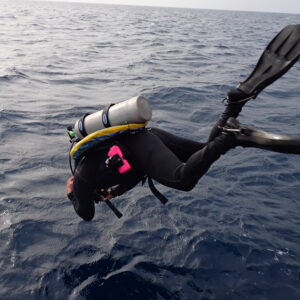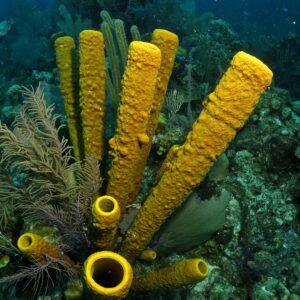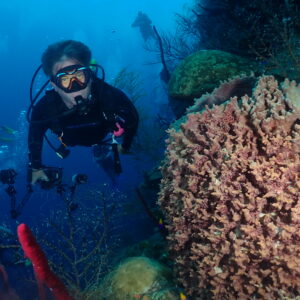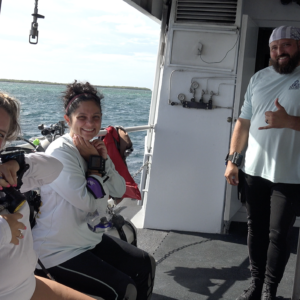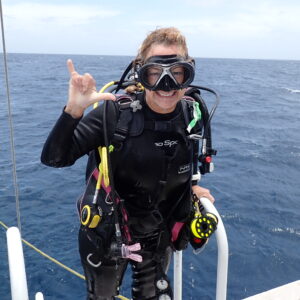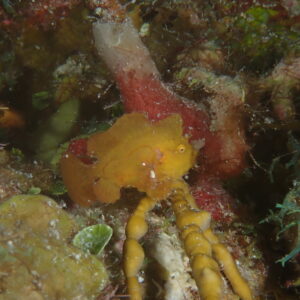 What You Can See Above and Underwater
Marine Life
Belize scuba diving gives you the opportunity to see an array of marine life. Here are some of the incredible marine life that you could be lucky to see on your next Belize scuba diving trip.
Whale Sharks – Whale sharks are commonly found during the short window from April – June, around the time of the full moon. Whale sharks can grow up to 40ft long and weigh as much as 47,000 lbs. Despite their size, they are gentle giants and can be quite playful.

Reef Sharks – Both white and blacktip reef sharks can be found in the Belize Barrier Reef, they are generally found in shallower parts of the reef up to 100ft.
Hammerhead Sharks – Hammerhead sharks are amazing animals to see no matter where you are. Belize scuba diving provides you an excellent opportunity to see them as they travel along the continental shelf to the south of Belize during the months June – September.
Manatee – Can you belize you can find manatees on the Belize Barrier Reef? Belize has become a sanctuary for Manatees and provides an excellent chance of seeing the majestic creatures. Your best chance of seeing one is June – September.
Hawksbill Turtle – The Hawksbill turtle has ancestors dating back 100 million years. For many years, they were hunted for tortoise shells. At Glovers Reef Atoll in 2007, a long-term sea turtle monitoring project was set up to monitor and generate information on how to best preserve this ancient creature. They're common to see from March to October.
White-spotted toadfish – The white-spotted toadfish is a species that is only found in the waters of Belize. You might be lucky enough to spot one in caves and hollows or around coral and rocky reefs.
Land Attractions
Belize is amazing on land and under the water, so you might wish to stay later or arrive earlier to explore everything Belize has to offer. There are a variety of attractions and activities that you can enjoy to get an appreciation for the rich history and culture in Belize.
Belize was first inhabited by the Mayans around 1500 B.C.E. It wasn't until 1638 that the first European settlement was established – over 1000 years later! Belize became a "Colony of British Honduras" in 1840 and was officially named "Belize" in 1973.
Belize is the only English-speaking country in all of Central America. However, many citizens speak Kriol. There are more than eight cultures throughout the country, each one diverse and unique. 
San Pedro is a great spot to stay and explore. The once sleepy fishing town was granted the status of a town in 1984. Whilst there, visit the Ambergris Museum which houses ancient Mayan civilization artifacts. 
Make Your Dream A Reality:
Enquire About Our Belize Liveaboard Trip