Roatan is a paradise for scuba divers, offering an incredible variety of marine life, stunning coral reefs, and dramatic underwater caves. The island is located in the Western Caribbean, just off the coast of Honduras, and is part of the Mesoamerican Barrier Reef system – the second largest coral reef in the world.
Whether you're a beginner or an experienced diver, Roatan has something to offer everyone. Book a scuba diving trip today and discover the underwater magic of Roatan.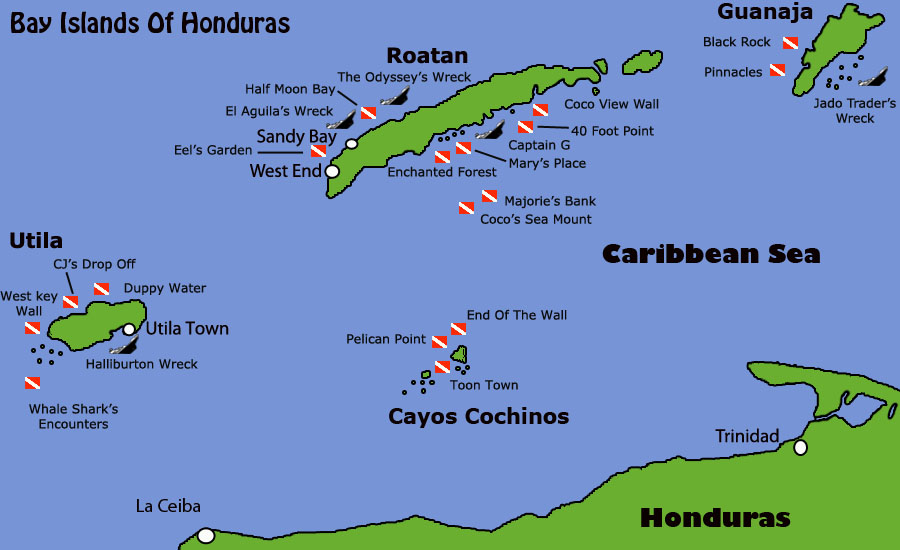 Roatan Scuba Diving
Roatan is one of the best places in the world to go scuba diving, due to its clear waters, the abundance of marine life, interesting swim-throughs and variety of dive sites.
The Dives
Mary's Place – Ancient volcanic activity caused the famous 120 feet deep vertical cracks at Mary's Place. A triangular plateau begins at 30 feet and gradually descends towards the apex of the triangle, which is about 60 feet below sea level.
This dive site is not recommended for novice divers. The depth of the cracks, as well as several narrow crevices, requires expert buoyancy control and is, therefore, best suited for intermediate to expert divers.
Dolphin's Den – The name of the site comes from the discovery of numerous Dolphin bones. A pod of 13 bottlenose dolphins swam into the cavern in the summer of 2007 and got trapped and died. The most popular theory as to what happened is that the dolphins followed a school of silversides into the cave and became lost among the thick cloud of baitfish.
You can enjoy a variety of dark caverns and overhangs as well as the crabs and green moray eels that frequent this site, and if you trek all the way to the deepest and darkest cavern, you can even find the remains of Dolphin bones.
Fish Den- The Fish Den has lovely terrain and a wealth of soft coral, schools of fish, and the occasional green moray swimming about! Hundreds of fish will gather in just 10ft of water where we'll start. The incredible mountain wall brimming with Barrel, Tube, and Elephant Ear Sponges is worth noting.
El Aguila – One of the most popular shipwreck dive sites off Roatan's coast, El Aguila is a broken-down ship that provides plenty of crevices for divers to explore.
The El Aguila Shipwreck is located just off of Sandy Bay, at a depth of 110 feet. You'll be sure to see groupers, green eels, luscious coral and maybe even some eagle rays.
Blue Channel – Right off the coast of Roatan's prominent West End, the Blue Channel is a popular snorkeling and diving site. The channel starts within the reef and curves out toward the coral ridge, gently sloping from 10 to 45 feet. You'll be sure to see plenty of lobster, damselfish, green morays, snapper, triggerfish, pipefish, barracuda, tangs and juvenile grouper.
Hole in the Wall- Hole in the Wall is a great Roatan scuba dive for diving enthusiasts of all levels. It is located just outside of Mangrove Bight and has something for everyone.
The sand chute tunnel is what gave this dive site its name: "Hole in the Wall." The entrance to the chute begins at 40 feet and then divers will emerge from the chute at 100 feet.
Novices may enjoy the beautiful scenery around the sand slope and the magnificent wall on the right side of it. More experienced divers can descend to just above the amazing chasm, which drops thousands of feet below.
Once the divers reach the top of the wall, they can enjoy the unique "swiss cheese" rock formations in the shallow waters where visibility and color vibrancy improve. These formations give way to caverns, swim-throughs, and canyons housing a variety of sea creatures.
Roatan Marine Life
Reef Sharks – There's nothing like swimming alongside these graceful predators, observing their beauty and power up close. Reef sharks are usually harmless to humans, and they play an important role in the coral reef ecosystem. Divers can help to protect sharks by respecting their space and not touching or harassing them. By respecting these magnificent creatures, we can ensure that future generations will be able to enjoy them as well.
Whale Sharks – Scuba diving with whale sharks is an unforgettable experience. These gentle giants are the largest fish in the sea, and they are often curious about divers. While they are not known to be dangerous, it is always important to respect their space and avoid touching them.
They are filter feeders, and they swim with their mouths open, slowly filtering krill and other small creatures from the water. It's an amazing experience to be in the water with these gentle giants, and it's something that I would recommend to anyone who loves to scuba dive.
Eagle Rays- These graceful creatures are often seen soaring through the water, their wingspan reaching up to 16 feet long. Seeing one up close is an unforgettable experience and one that all scuba divers should have on their bucket list. Eagle rays are not only stunning to look at, but they are also gentle and inquisitive creatures.
Turtles- One of the best things about scuba diving in Roatan is diving with the turtles. The most common turtle in Roatan is the Hawksbill turtle. The hawksbill turtle is a beautiful but endangered creature that inhabits tropical oceans around the world. Growing to an average length of two feet, these turtles get their name from their sharply curved beaks, which they use to feed on sponges and other invertebrates. Hawksbill turtles are also known for their distinctively patterned shells, which range in color from creamy white to reddish-brown. Sadly, hawksbill turtles are critically endangered due to hunting and habitat loss.
Seahorses- Among the colorful corals, you might spot a seahorse! These enchanting creatures are often well camouflaged, but with a little patience, a bit of luck, you might just get a glimpse of one. Seahorses are just one of the many treasures that can be found in Roatan's waters, making it an ideal destination for scuba diving.
Roatan Scuba Diving Conditions
There's good reason divers dream about scuba diving in Roatan: clear, blue, calm, and no strong currents. The warmest month of the year for water temperature is actually September with an average of around 85.3°F / 29.6°C while the coldest month is February with an average water temperature of 79.3°F / 26.3°C. These are dream conditions and make for fantastic dives.
See If We Have Any Upcoming Trips to Roatan