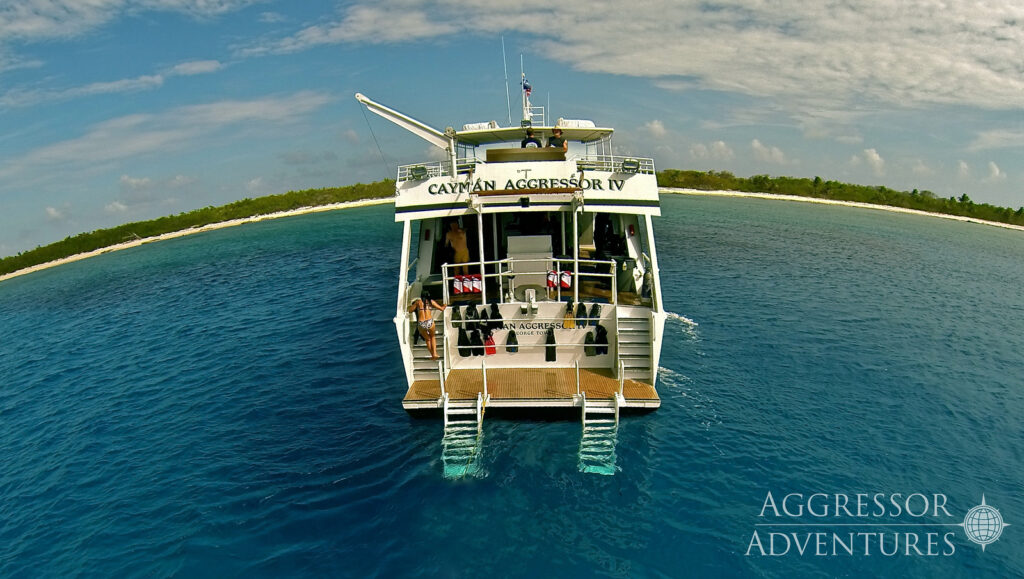 Whether you've always dreamed of swimming alongside adorable seahorses or getting up close and personal with a hammerhead shark, our Cayman Islands Aggressor Liveaboard trips have it all.
With multiple dives every day at some of the most well-known and untouched dive sites in the world, you'll have a chance to swim through pristine coral gardens, explore wrecks and artificial reefs, and marvel at an incredible array of sea creatures both large and small.
And after a long day spent discovering undersea wonders, there's nothing like kicking back aboard a spacious liveaboard with comfortable accommodations and delicious meals to round out your adventure or lounging on the beach and exploring everything the island has to offer.
So if you're ready to start ticking things off your scuba diving bucket list, why wait?
The Boat
The boat that you're on will depend on which trip you're on with us. But no matter which Scuba Adventures trip you choose, we'll have a boat entirely dedicated to Scuba Adventures! That's right. Just you and your closest dive buddies experiencing the best of the Cayman Islands.
Cayman Islands Aggressor IV Liveaboard
If you're looking for the ultimate dive adventure, look no further than the Cayman Aggressor IV. This impressive liveaboard features everything you need to explore the spectacular reefs and marine life of the Cayman Islands.
The top deck is home to a hot tub and a sun deck with plenty of lounge chairs, perfect for soaking up some rays after an exciting day of diving. Down below, the spacious dive deck is outfitted with dedicated lockers for your wetsuits and gear, making it easy to get geared up for each dive. There are multiple rooms to choose from on board, all with their own ensuite bathrooms, including a massive master suite as well as comfortable twin rooms and deluxe twin rooms.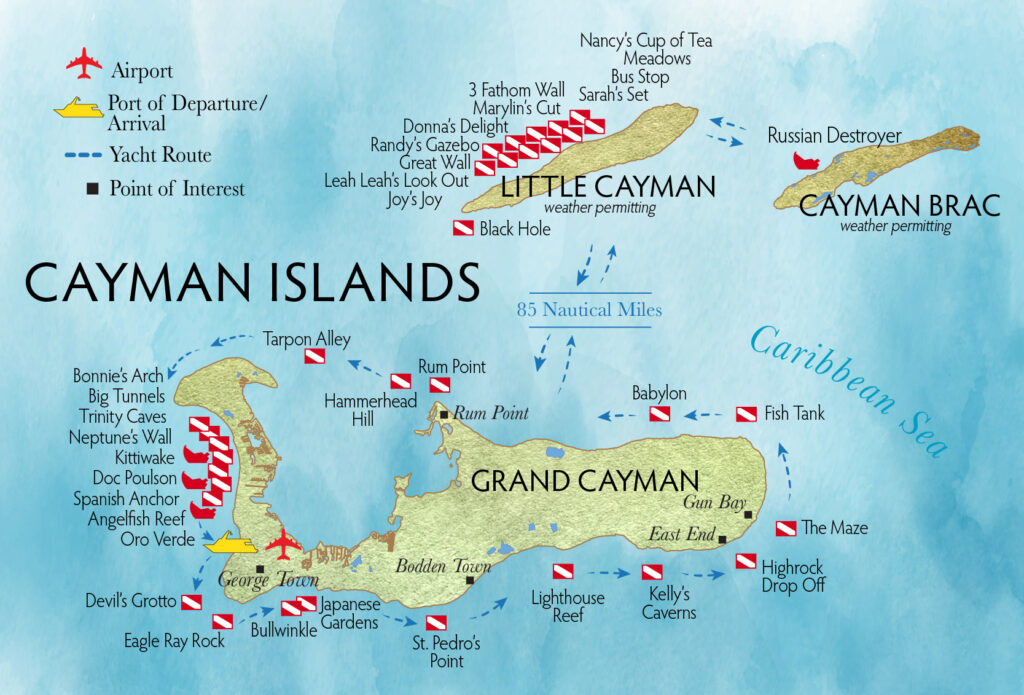 Scuba Diving in the Cayman Islands
The Cayman Islands are a scuba diver's paradise. The clear, warm waters offer excellent visibility, and the wide variety of marine life is simply amazing. Reefs, shipwrecks, and caves, there is something for everyone to enjoy, whether you're a beginner or an experienced diver.
The Dives
There are over 60 dive sites in Grand Cayman so there is almost always somewhere to dive even if conditions aren't perfect for a few areas. Here's a sneak at what you can expect.
3 Fathom Wall (Mixing Bowl) – If you're looking for a diverse fish-filled dive site that is filled with excitement, then look no further than 3 Fathom Wall. Located at the crossroads of Bloody Bay Wall, this site offers something for every type of scuba diver. Here, you'll find a mix of gentle slopes and sheer walls, home to a wide variety of fish from Bermuda chubs and goatfish to snappers and grouper. What's more, the shallows of 3 Fathom Wall are filled with a seemingly endless variety of smaller creatures, including colorful schools of fish and timid yellowhead jawfish.
Bonnie's Arch – Bonnie's Arch is a beautiful dive site that is perfect for both photography and videography. The arch provides a stunning backdrop for any underwater shot, and the abundance of sea life in the area makes it a great place to capture some amazing footage. Seahorses are sometimes found here, and angelfish are a common sight. Channel-clinging crabs can also be spotted under the edge of the outlying reef system. The maximum depth for this dive is 70 feet. Bonnie's Arch is a must-see for anyone visiting the area!
Devils Grotto/Eden Rock- Known as "One of the dives that made Grand Cayman so famous," Devils Grotto and Eden Rock are two of Grand Cayman's most popular dive sites. Located just off the shore outside of George Town, these sites offer divers the chance to explore a variety of underwater passages. The maximum depth at both sites is 45 feet, making them ideal for novice divers. However, experienced divers will also find plenty to see and do, as the sites are teeming with marine life. Whether you're looking to see colorful coral or curious fish, Devils Grotto and Eden Rock are sure to disappoint.
The Great Wall – Whether you're an experienced diver or a beginner, the Great Wall is truly a sight to behold. The Aggressor IV will be moored in crystal clear waters at a depth of 15 feet, making it accessible to divers of all skill levels. At 18 feet, the wall begins its dramatic descent, eventually leading down to a depth of 3000 feet. Lined with lush vegetation and stuffed full of amazing marine life, the Great Wall truly has it all. You'll find stunning gorgonians and soft corals flourishing along the wall, as well as fascinating rope sponges and other delicate species. And as if that weren't enough, this stunning dive site is also home to turtles frolicking among the coral branches and large schools of juvenile fish darting through the water.
Stingray City – Stingray City is known throughout the world as one of the most unique and unforgettable diving experiences. Located along the northwestern coast in Grand Cayman, this site is home to dozens of friendly Southern Stingrays that flock to the area in search of food. These magnificent creatures can be found at depths of just 12 feet, making them easily accessible for divers of all experience levels.
The Kittiwake M/V Keith Tibbetts – Formerly known as the Russian Destroyer #356. It was built by the USSR for Cuba in 1984 and sunk at Cayman Brac in 1996 to become an artificial reef. The wreck lies in 40-90ft of water and is a popular spot for wreck divers as they can penetrate the wreck to explore it further.
Orde Verde – The Ore Verde was once a thriving cargo ship before it met its watery end and now lies in pieces against a section of coral reef. Today, it is a popular destination for divers, who come to see the many fish that call the wreck home. During the day, divers can spot hordes of chub, jacks, and snapper, while at night they may catch a glimpse of the midnight blue parrotfish. However, divers should always be aware of the spotted morays or green moray eel that may also be lurking about. Whether you're looking for daytime or nighttime adventure, the Ore Verde wreck is sure to provide an unforgettable experience.
Cayman Islands Marine Life
Turtles- The Cayman Islands are home to many different types of turtles, including the loggerhead and hawksbill turtles. Both of these turtles are threatened species, and they are protected by law. The loggerhead turtle is the largest of the two, and it can grow up to three feet long. The hawksbill turtle is smaller, and it has a beak-like mouth that it uses to eat sponges and other marine life. You can expect to see both of these turtles any time of year in the Cayman Islands.
Hammerheads – Diving with hammerhead sharks is an unforgettable experience. These magnificent creatures can grow up to 20 feet in length, and their curious nature makes them a popular choice for divers around the world. The Cayman Islands are one of the best places to see hammerheads, specifically the famous dive site Hammerhead Hill, as they are attracted to the warm waters and abundant food sources. When diving with hammerheads, it is important to remember that they are wild animals and should be treated with respect. Divers should avoid touching or harassing the sharks and should always give them plenty of space. With a little caution and care, diving with hammerheads can be a safe and thrilling adventure.
Eagle Rays – Scuba diving with Eagle Rays in the Cayman Islands is an experience like no other. These graceful, winged creatures are some of the most beautiful and awe-inspiring marine animals that you can encounter while diving. Whether you choose to swim alongside them in the open ocean or follow them into their caves and crevasses, their seemingly endless energy and playful behavior is sure to captivate your imagination. Although Eagle Rays can be seen in the Cayman Islands year-round, you have the highest chance of seeing them from May to September.
Whitetip Reef Shark – Scuba diving with whitetip reef sharks in the Cayman Islands is an unforgettable experience. These stunning creatures are relatively small, but they are incredibly fast and agile. They are also very curious and will often approach divers out of curiosity. However, they are not dangerous to humans, and scuba diving with them is an incredibly safe activity. The best time to see whitetip reef sharks in the Cayman Islands is from May to August. It is an amazing sight, and a truly once-in-a-lifetime experience.
Seahorses – While the Cayman Islands are best known for their stunning coral reefs and diverse marine life, don't forget about the amazing small critters that call these waters home. Seahorses, for example, are often found clinging to the coral, blending in with their surroundings. These fascinating creatures have a unique way of swimming, using their long tails to curl around objects and propell themselves through the water. Keep your eyes peeled while diving, and you may just spot one of these elusive creatures.
Cayman Islands Scuba Diving Conditions
The Cayman Islands are world-renowned for their clear turquoise waters and pristine coral reefs. Scuba diving in the Cayman Islands is an unforgettable experience!
The water temperature is also very consistent, averaging around 84 degrees Fahrenheit year-round.
If you're a viz snob, this is definitely the trip for you! Visibility is 100 ft on average and can even get up to 200 ft!!
The water temperature is also very consistent and is on average about 85ºF in the summer. So most divers won't need more than a 3 mil shortie!
Dive sites are calm with little to no currents or surge and waves averaging at only 2-3 ft.
Divers are prohibited from wearing gloves in order to discourage from touching coral.
Make Your Dream A Reality:
Inquire About Our Upcoming Aggressor Liveaboards