What's on your scuba dive bucket list?
Hammerheads? Spotted Eagle Rays? Turtles? Reef Sharks? Astonishing Coral Walls?
You can have the chance to knock these bucket-list items off your list and more in Grand Cayman with Scuba Adventures Plano.
Grand Cayman November 7th-November 14th 2020
Join us for 8 days and 7 nights in Grand Cayman. You get 11 dives (full valet service) on a boat dedicated just to Scuba Adventures, free car rental, an early divers breakfast every morning and a welcome cocktail and gift!
You get all of this for only $1,499 per diver for a quad occupancy in a 2 bedroom condominium. Or $1,799 per diver for double occupancy in a 1 bedroom oceanfront condominium.
If your friend or partner isn't a scuba diver but still wants to enjoy everything Grand Cayman and the amazing Compass Point Resort has to offer, they can join us for only $899 for quad occupancy in a 2 bedroom or $1,199 double occupancy in a 1 bedroom!
Ready to start your scuba adventure?
*Exclusions:
Airfare
Rental care gas, license fee, insurance and environmental fees
Travel insurance
Scuba Diving in the Cayman Islands
Scuba diving is fantastic year-round at the Cayman Islands. If you're a viz snob, this is definitely the trip for you! Visibility is 100 ft on average and can even get up to 200 ft!!
Water temperatures are on average about 85ºF in the summer. So most divers won't need more than a 3 mil shortie!
Dive sites are calm with little to no currents or surge and waves averaging at only 2-3 ft.
Divers are prohibited from wearing gloves in order to discourage from touching coral.
The Dives
There are 55 dive sites in Grand Cayman so there is almost always somewhere to dive even if conditions aren't perfect for a few areas. 
4 of your dive days will be two-tank boat dives and 1 day will be a three-tank dive safari visiting more remote dive sites such as the "Far" North Wall, Old Man Bay or Bodden Town and Beach Bay.
Two-tank boat dives are 1/2 day trips offering you plenty of time to lounge by the pool or explore everything else Grand Cayman has to offer. The first dive is usually a wall or reef dives and the second is a reef or open cavern dive. You're going to love the vibrant coral in the Cayman Islands.
You may also get to visit the Kittiwake, Grand Cayman's biggest shipwreck swarming with marine life.
The Ocean Frontiers dive shop wants to make sure you are 100% stress-free on your vacation. That's why they offer "concierge-style" diving. You don't have to lift a finger! They will set up your dive gear and change your tanks between dives. You can just sit back and relax.
Dive guides, lead wights, belt air tanks and drinking water are included in all dives.
The Boat
A boat entirely dedicated to Scuba Adventures! That's right. Just you and your closest dive buddies experiencing the best of Grand Cayman.
You'll be diving off "Gun Bay Diver," "Sparrowhawk Diver," or "Half Moon Diver." All are nicknames the limousines of dive boats!
46 ft by 16 ft custom made for diving. You get your own individual custom dive station with armrest, elbow room, and an individual mask rinse bucket. 70% of the deck is shaded, 2 sun decks, dry storage for valuables, marine head/toilet, changing room, camera rinse tanks and double-decker camera tables. 
This is luxury diving.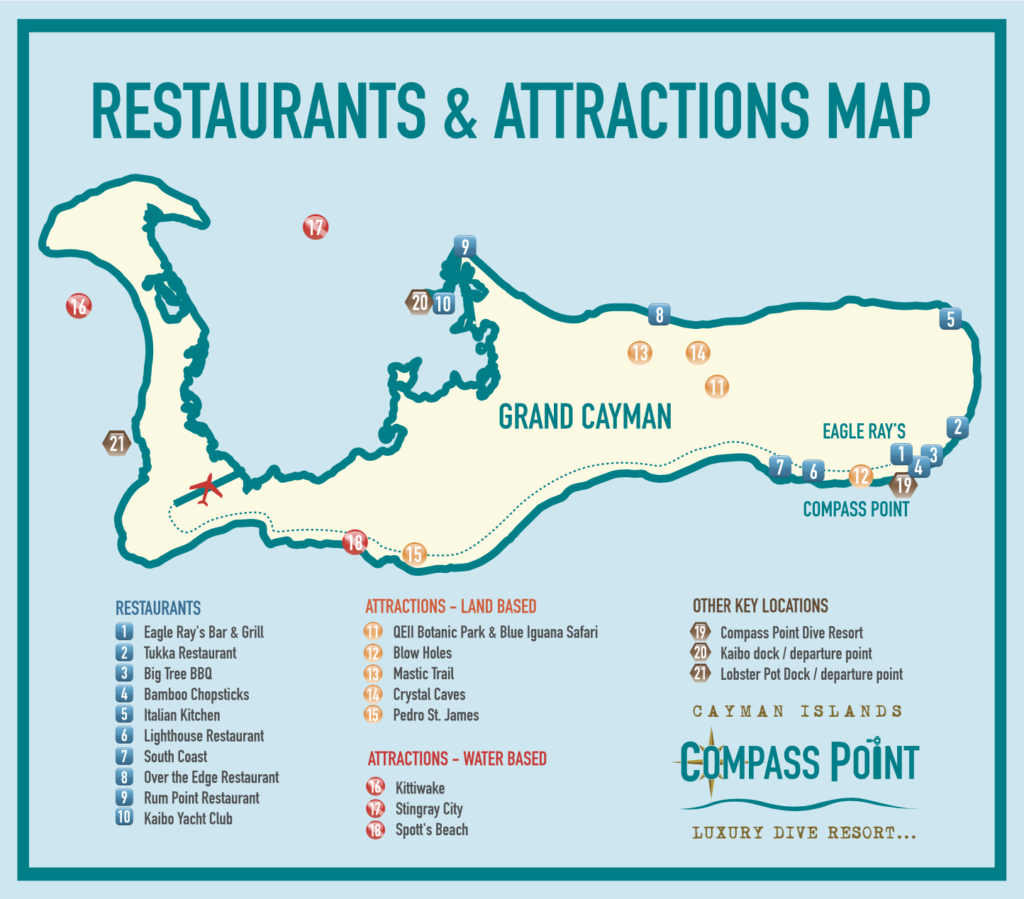 Surface Interval Activities on Grand Cayman
When you're not diving in the deep and playing with the fishies. You can
Lounge by the pool
Stroll the beach
Snorkel famous Stingray City
Walk trails
Visit the Crystal Caves
Go kayaking
Explore the area on a bike
Climb the Lighthouse
Learn about the native Blue Iguana
and more!
Make Your Dream A Reality:
Book A Trip To The Cayman Islands Today