Don't forget to have your scuba regulators serviced this year!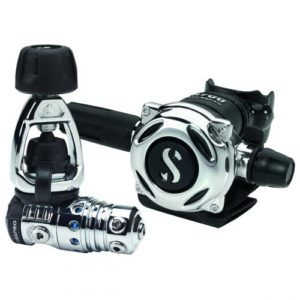 Taking care of your equipment is important in any sport. Taking care of your dive gear is especially important because for us, it's life support equipment.
Certified divers know their scuba regulators and hoses are the heart of the system.
Having your first stage, second stage and octopus units serviced once a year (or as recommended by your manufacturer) means that you can always count on the dive regulator being ready to go and working properly.
Remember that BCs that have an integrated extra second stage regulator (like the ScubaPro Air 2) is part of your air delivery system and should be serviced accordingly.
Also remember that your BCs, mask and fin straps, computer batteries and flashlights also need to be checked on a routine basis.
Scuba Adventures provides service and repair, inside our own shop, for products in our ScubaPro, Mares, TUSA, Halcyon lines.
In addition, our technicians have taken dive manufacturer's approved courses for most of the major brands of dive gear on the market.
Including:
Our tech team stores a large amount of parts year-round. If the needed parts are in stock, we can turn your gear in 3 weeks. Allow 4 weeks if parts needed must be ordered.
Rest assured, your dive equipment is in good hands with the Scuba Adventures service team.
Prices are fair and market appropriate while reflecting the time spent servicing your scuba equipment. It is worth pointing out, that we do not cut corners when it comes to servicing.
We only use manufacturers approved service kits and always replace every part recommended by the manufacturer.
We give you the peace of mind that your life support equipment is being maintained correctly.
Equipment Servicing Prices
| Service | Price (Plus Parts) | Includes |
| --- | --- | --- |
| New Reg Check | Free | New reg check and tuning for regulators purchased from Scuba Adventures |
| BCD Bench Check - no service performed | $25 | BCD will be filled with air and checked that there are no leaks |
| BCD Repair Service with AIR2/Safe Second | $90 | BCD flushed and cleaned, checking all the over pressure valves and servicing the AIR2/safe second |
| BCD Repair Service with BPI | $70 | BCD flush and clean, checking all the over pressure valves and servicing the BPI if it can be rebuilt or recommending a replacement |
| Regulator Bench Check - no service performed | $25 | Regulator will have its intermediate pressure checked and be checked on magnehelics, but we will not open the 1st or 2nd stage |
| Complete Regulator Service 1st, 2nd, and Octo | $105 | Replacing the parts with original manufacturer kits, then putting on a break in machine that will breath the regulator at least 200 times, then peform a vacuum test, a dunk test (where we put it in the pool to check for leaks), free flow test, and bleed test. |
| Complete Regulator Service 1st and 2nd only | $70 | Replacing the parts with original manufacturer kits, then putting on a break in machine that will breath the regulator at least 200 times, then peform a vacuum test, a dunk test (where we put it in the pool to check for leaks), free flow test, and bleed test. |
| AIR 2 or BC Regualtor | $45 | Replacing the parts with original manufacturer kits, then putting on a break in machine that will breath the regulator at least 200 times, then peform a vacuum test, a dunk test (where we put it in the pool to check for leaks), free flow test, and bleed test. |
| Balanced Power Inflator Service | $25 | Basic check and service if possible |
| Scuba Cylinder Hydrostatic Test + Visual Inspection | $60 | Cylinder Hydrostatic Test and VIP includes new neck seal and tank valve seal |
| Scuba Cylinder Visual Inspection | $25 | Visual Inspection of cylinder and replacement of neck seal and tank valve seal |
| Computer Battery Replacement | $25 | Computer Battery replacement and pressure check to depth |